Our goal
Bitpam is a place where you can read about the latest CryptoCurrency guides and insights! We aim to consistently provide you with the highest quality guides and information on Bitcoin and other CryptoCurrencies.
We also hold original CryptoCurrency collectibles that you can wear and keep, because you're a true CryptoCurrency enthusiast, and why not show your passion for this new, exciting, and volatile emerging market!
We first learned about CryptoCurrency in late 2014, but only recently have we seen the true potential in CryptoCurrency and hope to provide value to everyone who wants to learn more and participate in the wonders of the world of CryptoCurrency!
If you want to keep up to date on the latest CryptoCurrency news and insights, or just on how you could potentially profit from CryptoCurrency, check out Bitpam's GUIDES!
GUIDES
If you're looking to buy the latest and greatest fresh new Crypto gear, you can check out what we're selling currently at our PRODUCTS page!
PRODUCTS
Our products are on Spendabit as well.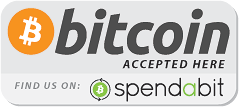 If you want to know more about us you can always contact us here! Best of luck out there!
Follow us on social media to stay up to date with the latest news, deals, and giveaways!
It's also easiest to reach out to us this way (click image below).